Tet holiday in Vietnam is considered as the most important; biggest holiday of the year. It is time for relaxing; gathering with family and friends. If you plan to visit Vietnam in Tet holiday, you might hear negative information for tourists during this time. Don't worry so much, follow our below post to know more about this festival. And our information will help you arrange your trip well without difficulty. You will have a wonderful trip & enjoy Tet atmosphere.
When is Tet holiday?
Tet is when the spring arrives. Tet holiday is a time to return home, gather with family, meet friends after a busy year with work & life. We don't have an exact answer when Tet holiday come because Tet follows Lunar year calendar. And this calendar varies from year to year. But it often falls in the month of January & February. When you make travelling plan, please check Lunar year calendar to know when Tet holiday is exactly.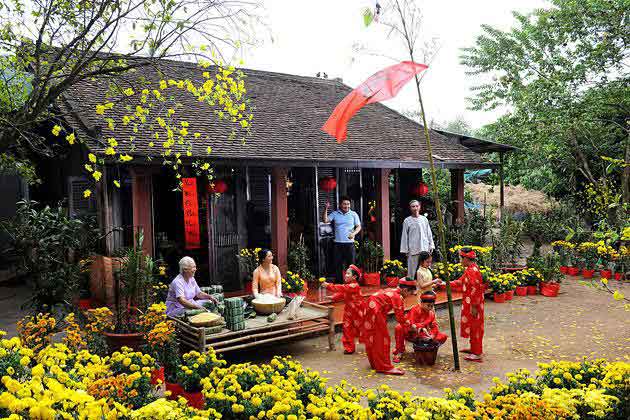 Traveling during Tet holiday, what do you pay attention to?
Tet is a great time to visit Vietnam. However, please pay attention to the following:
Hotel accommodation
Vietnamese have some days off during Tet holiday but they often choose to return home with family instead of travelling somewhere. But it is peak time to travel in Vietnam because many international tourists come here. You should make hotel reservation long before your travelling date & the actual holiday to be sure that you have a room. And you have no way to avoid high surcharge fee for services on this period. Even at some hotels or resorts, compulsory dinner for New Year Eve is applied. You must pay this fee when making reservation whether you take part in or not.
Transportation
This is a big concern for tourists travelling during Tet. All means of transportation's ticket price are increased so much and fully booked very quickly. Even if you travel by train, you have to buy ticket for a long route to have a seat for a shorter route. And they are always so crowded. You are even forced to share the berth on train, the seat on local bus with others. If you would like from the North to the South, you should depart before the actual Tet holiday comes. And travelling from the South to the North, your travelling date should be after the actual Tet holiday. And the best time to arrange ticket for flight, bus or train is a few months before Tet.

Sightseeing food
Although you will have a chance to enjoy an unique atmosphere in local's life during this time, but you have to face another difficulty. There are limitation to choose where to visit. Many places are closed on this period: museums, mausoleums, art houses… Close time is about 4 days. However there is still good news. You will not be lost in the crowded streets, or beaches.
You might hear that you will have difficulty in finding food, right? Don't worry! This situation is right for the past. Now everything is changed. Many restaurants still open during Tet. It is not so hard to enjoy Vietnamese food on these days. But, remember that price for food and all service is more expensive than normal days.
Although there are advantages & disadvantage when you travel to Vietnam on Tet holiday, but it is hard to deny that this is a good time to travel & learn about local life, nature & culture in Vietnam.