If you travel to Ho Chi Minh City and not visiting the Independence Palace, it would be a big omission. It attracts visitors by its beauty and great significance. The Independence Palace is located in the heart of Ho Chi Minh City. Specifically, it is located at 135 Nam Ky Khoi Nghia Street, Ben Nghe Ward, District 1. This address is also close to other tourist attractions such as the Notre Dame Cathedral, April 30 park, City Center Post Office, etc.
Overview of the Independence Palace
The Reunification Palace covers an area of ​​up to 120,000m2. It is located in the central area of ​​Ho Chi Minh City, limited by four main streets, namely Nam Ky Khoi Nghia in the northeast, Nguyen Thi Minh Khai in the northwest, Huyen Tran Cong Chua street in the southwest, and Nguyen Du in the southeast.
With its location in the city center, the means of transportation to the Palace of Reunification are quite diverse: buses, taxis, cars, and motorbikes. If you take the bus, you can take the routes: 001, 002, 03, 04, 05.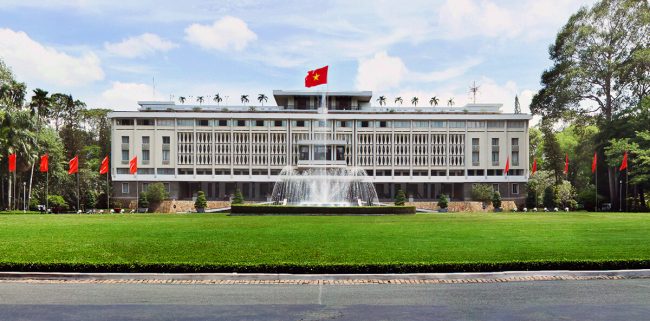 In addition, there are many old trees on the grounds of the palace with different species planted from the French colonial period.
Special interior architecture system
Living room: This is the first point that you should visit when visiting the Independence Palace. The living room has a capacity of 500 people, it is a place used to organize meetings, receptions, etc.
Presidential family residence: Another interesting place to visit is the residence of the President's family. The longest-lived person here is the President under the old regime: Nguyen Van Thieu (from October 1967 to April 21, 1975).
The basement: The basement is full of communication rooms, printing rooms, etc . Ensuring the release of the President's orders outside.
Historical artifacts
On the roof of the Independence Palace, there was a display of President Nguyen Van Thieu's UH-1 helicopter, next to the location of two bombs that exploded pilot Nguyen Thanh Trung.
Mercedes Benz 200 W110 number plate VN-13-78 of Germany is one of the cars that President Nguyen Van Thieu used to move.
The Jeep M152A2 was released by the Revolutionary force to transport Mr. Duong Van Minh, the last President of the Republic of Vietnam regime, to Saigon radio to read the surrender statement at noon on April 30, 1975. .
Thanks to historical elements of artifacts such as 390 tanks, 843 tanks and F5E fighters, it helped to bring the Reunification Palace into a more attractive tourist destination in the eyes of tourists.
Therefore, nowadays, the Independence Palace has been ranked by the Vietnamese government as a special national monument. Since the Independence Palace was recognized as a Special National Monument, it has been a major attraction for domestic and international visitors. At the same time, it is also a place to welcome high-level domestic and international delegations.