Golden Bridge is one of the most visited attractions in Da Nang. This attraction was opened in June 2018 and has attracted thousands of tourists from all over the world.
An impressive construction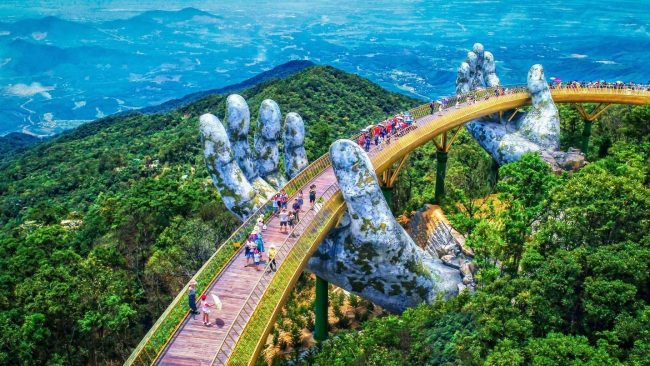 Golden Bridge construction was started on July 2017 and completed in April 2018. Located in Thien Thai flower garden of Ba Na hills, Golden Bridge, with its amazing structure, has received a strong impression from its opening. Golden Bridge was not only everywhere on Facebook and Instagram but it was mentioned in many news agencies, including Independent, The Guardian, Reuters, AFP, NBC. It was one of the ten bridges which had the most unique structure.
Golden Bridge located at 1,414m above the sea level. The length of this bridge is up to 148.6m with 8 spans and the largest span is 21.2m. To visit the Golden Bridge, you have to buy a ticket. This ticket is not only for the bridge it but also includes the 2-way cable fee, the wine cellar, Le Jardin gardens, Flower Garden and most of the games in Fantasy Park.
Golden Bridge architecture is totally unique and maybe you have not seen it anywhere else. There are giant grey hands which hold the bridge. If you look it from a distance, it is like hands are holding a ribbon. Laying in the giant old hands is the elegant bridge, giving the Golden Bridge beauty contrast. The yellow colour of the bridge becomes more noticeable in the forest background.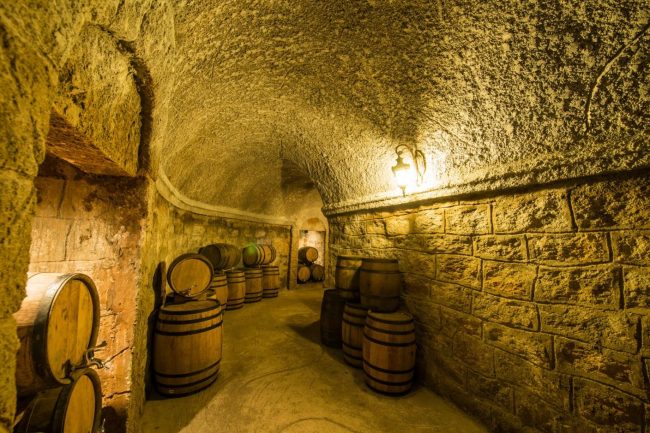 According to the design firm of Golden Bridge TA Landscape, the bridge represents the hands of the God of Mountain to get the Thien Thai flower garden. Most tourists when visiting the famous Golden Bridge think that the giant hands are stone carvings. However, they are wrong. Bored Panda, a reputed website for designing, reveals how these giant hands were made. The designers first made the skeleton hands and then covered them with steel mesh. Finally, these hands were finished with fine fibreglass. The process seemed simple but it took about a year to complete this construction.
Notes for tourists
The price of each ticket for an adult is 750,000VND and for children whose height is from 1m to 1,4m is 600,000VND. If you visit Ba Na hills after 16:00, you just have to pay 650,000VND and this price includes buffet dinner. You may have less time to explore this stunning destination but you will have a chance to see the sunset on the Golden Bridge. Children who are under 1m do not have to pay the gate fee. The hills also lower the price for people with disabilities.
If you have a chance to visit this splendid attraction, do not forget to go to other amazing places near it. You should spend time visiting Debay Wine Cellar. It is deep in the mountain which was built in 1923 by the French. Besides, you should not blow your chance to visit Le Jardin d'Amour, French village and Fantasy park.
Golden Bridge has become a highlight of not only Danang tour but also Vietnam tour. It attracts many tourists every year for its poetic and breathtaking view.