When talking about Ho Chi Minh City's nightlife, there is no better place to entertain than a bar on the rooftop. With panoramic city views and more, they are rated as some of the best places to have a night out. In this article, I would like to introduce you to the list of most popular rooftop bar Saigon that you should know.
Chill Sky Bar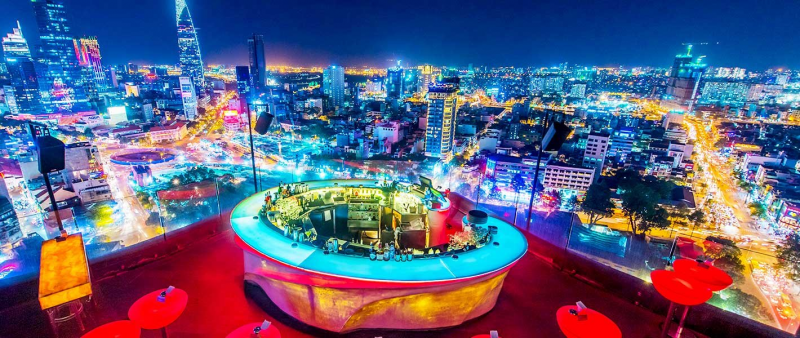 Chill Sky Bar is located on the 25th floor of AB Tower Saigon which attracts wealthy locals and foreigners looking to party. The music policy here includes chill-out tunes early in the evening before its resident DJ appears with trendy dance and hip-hop music from 22:00 onwards.
Due to its luxurious atmosphere, I have to admit that the drinks here are quite expensive. However, you will have a discount for hours from 5 PM to 8 PM. The service at this hour offers all cocktails, drinks, beer, wine, and snacks at half price.
The View Rooftop Bar
The View Rooftop Bar surprises guests with its innovative dining space and its design. It unlike any other bar you have visited. You can ultimately choose to sit inside, close to the bar to be able to admire the virtuosity of the bartender. Or you can sit outside the yard full of green trees and eyes, zooming into the eyes of the bustling city view.
On Top Bar
Coming to On Top Bar, you can not only watch the great Saigon night from the high floor, but you can also relax in an extremely modern and luxurious space. This bar serves a unique menu with over 20 cheeses and cold meats from European cuisine that combine perfectly with wines from around the world. It is hard to deny that it has long been an exciting entertainment and relaxation destination for the Saigon people.
Zuma Rooftop Bar
As one of the first Rooftop Bar in Saigon, Zuma is always fascinated by its own characteristics. Here, diners enjoy the panoramic view of the city, most notably District 1 and District 3. From here, the view from Zuma Rooftop will make you dazed with the beauty of the Bitexco building with the river Saigon is right near the eyes.
Heli Bar
Located on one of the tallest buildings in Saigon – Bitexco, Heli Bar is a place full of new, modern, and vibrant elements. In Heli, there are many areas divided to suit the diverse tastes of customers, such as VIP room with a luxurious sofa, open space, and dance area. Also, special programs such as Sky Night and Lipstick Party are held every week, which promises to bring many exciting things.
Wrapping up
A relaxing evening at rooftop bars with friends is a trend loved by young people. Not only enjoying light cuisine, rooftop bars are also the place to bring the experience of space, architecture, and beautiful scenery. Was this article helpful to you? If you have any comments, don't hesitate to let me know. Thanks for reading.