French Quarter Hanoi is one of the most popular places for tourists. Compared to Hanoi Old Quarter, French Quarter is not as busy, however it has the charming and elegant beauty thanks to the ancient French-style architecture in the breath of modern life. Let's check out the must-know things about this area.
About French Quarter Hanoi
Located in the southern end of Hoan Kiem Lake, this area is now home to many five-star hotels, government offices, embassies and buildings. Historically, Hanoi was separated into three regions when the French dominated Vietnam. That explains why the buildings in this area has French architectural influences. French Quarter is perfect for sightseeing, especially for travellers who are interested in historical landmarks, museums and fashion boutiques.
Attractions in French Quarter
There are several outstanding tourist attractions in this area.
#1 Hanoi Opera House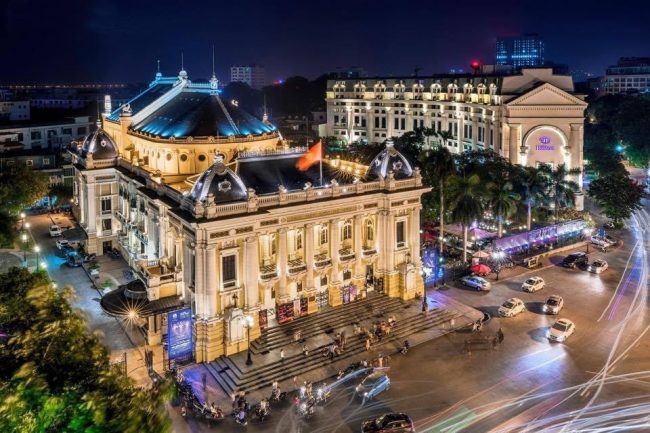 Hanoi Opera House is located at No 1 Trang Tien, Phan Chu Trinh, Hanoi. It was built in 1911 and became the massive work of its time which was inspired by the Opera Garnier Theater in Paris. The Opera House is home to many important events of the country, like rallies and demonstrations. This is also a popular place for musicians, actors and dancers where they can play for 600 audiences, making it one of the biggest theatres in Vietnam.
The Hanoi Opera House is an evidence of the French domination regarding history and culture. Visitors can admire its magnificent interior when attending a range of events including traditional folk music, ballets or even international concerts.
#2 Hoa Lo Prison
Hoa Lo Prison resides in No 1 Hoa Lo, Tran Hung Dao, Hoan Kiem, Hanoi. It was built in 1896 by the French to house Vietnamese revolutionaries and American POW (Prisoner of War) during the Vietnam War. This place reminds most Vietnamese to the heroic and painful past of the history. The artifacts displayed here, along with the prison site, feature short documentaries of prisoners being detained here.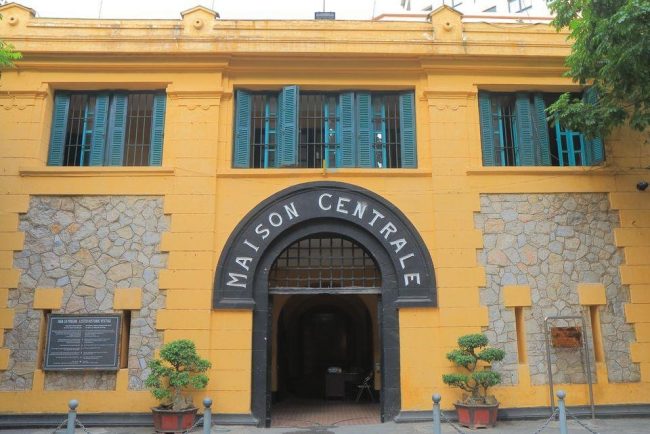 Hoa Lo Prison is also known as Maison Centrale. The fortress was once a large colonial-style prison which was torn down mostly in the 1990s. Today you can find the small section resting alongside a hotel and office complex.
#3 National Museum of Vietnamese History
Located at No.214 Tran Quang Khai, Trang Tien, Hoan Kiem, Hanoi, the National Museum of Vietnamese History was built from 1925 to 1932. It has Indochinese architecture style, which is quite similar to French architecture with some changes are made to adapt to climate conditions, landscape and traditional culture. Therefore, the Museum has an elegant and unique beauty.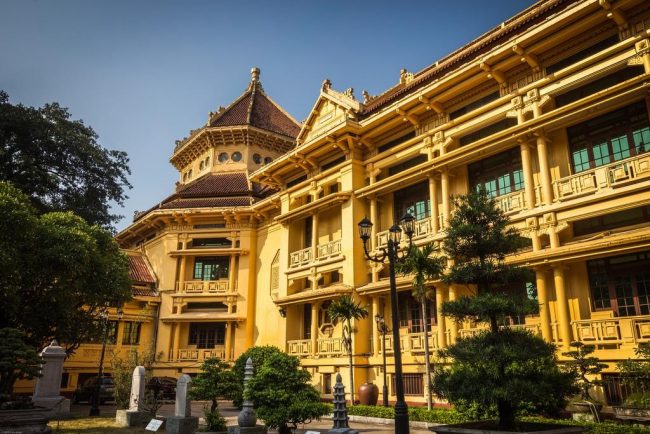 Visit the National Museum of Vietnamese History, you can find historical materials and objects through dynasties presented here. Also, there are coffee shops on the premises of the museum for visitors.
Each place has its artistic value and historical significance. Don't miss these destinations in Hanoi French Quarter if you come visit here.