If you are wondering where to visit when being in Cao Bang province, Vietnam, let's think of Ban Gioc waterfall, one of Vietnam's most beautiful natural sights. It is located in the north of Vietnam, which is 350 kilometers from Hanoi. This place and the surrounding areas are so impressive that can attract a huge number of visitors throughout the year.
About Ban Gioc waterfall
Ban Gioc waterfall is known as the widest one in Vietnam as all the falls here are 300 meters across and 30 meters high. They occur on the Quay Son River, which marks the border with the neighbor country China. This area is home to many Vietnamese ethnic minority communities including H'mong, Nung and Dzao. Each year, there are lots of visitors coming to Cao Bang province to see this wonderful waterfall.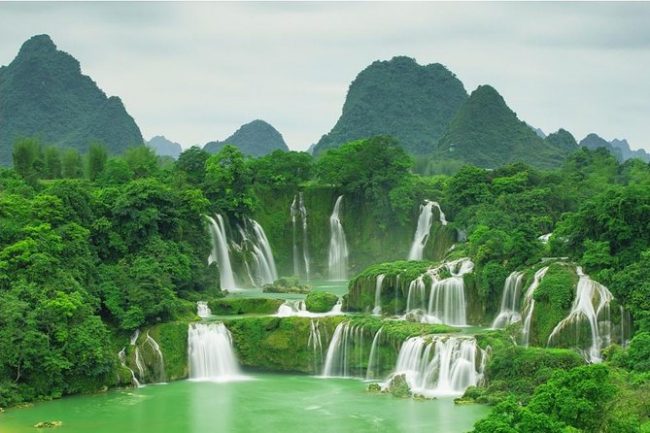 It is super easy to get to Ban Gioc from Hanoi. You can choose private car or bus but not motorbike because the road here is very dangerous, especially on rainy days. If you go by car, there are two routes for you. The first one will go from Hanoi, through Thai Nguyen, Bac Kan, Cao Bang and Trung Khanh. The other one will also start in Hanoi through Lang Son, Dong Khe (Cao Bang) and Trung Khanh. However, the first route is more preferable as you can see impressive Ba Be Lake along the way.
In case you do not want to drive, bus is truly a great option for you. You should go to My Dinh bus station to buy a ticket from 190,000 VND to 250,000 VND each person. Then, they will drop you at Trung Khanh district and you will have to catch a motorbike taxi to visit Ban Gioc waterfall. If you do not want to catch a motorbike taxi, you should book the ticket from the bus company in advance but the price will be more expensive. It takes you such a long time to get to Ban Gioc waterfall from Hanoi so you can sleep on the bus to get more energy when you reach the destination.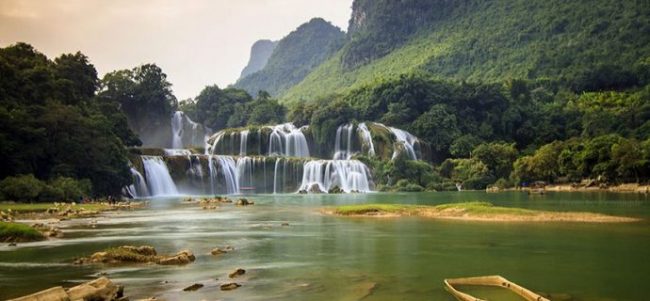 There are also a lot of spectacular places near Ban Gioc waterfall that people should spend time visiting. For example, around 4 kilometers from Ban Gioc waterfall is Nguom Ngao cave. It was made by an underground river and it was the place where local villagers used to shelter during the 1979 war. Another impressive place is Pac Bo cave where witnessed a lot of Vietnamese revolutionaries against enemies in the past.
In conclusion, Ban Gioc waterfall and the surrounding areas are truly amazing destinations for tourists to visit. So if you are on your holiday in Vietnam, let's check out this place to discover more about the life of Vietnamese people during the war.