Perhaps the longest inhabited archaeological site in Indochina, My Son is a group of now abandoned and partially ruined Hindu temples in Central Vietnam. It is a UNESCO World Heritage Site and is located about 43km from the ancient tourist city of Hoi An. The temples were constructed by the Kings of Champa between the 4th and 14th centuries, and are dedicated to the worship of the Hindu god Shiva.
How to get to My Son?
Given its proximity to Hoi An, very few tourists stay near the ruins and the best way to see it is to commute from Hoi An. There are a couple of options for this:
Take a motorbike taxi (xe om)
This is a hassle free way of doing it and is also fairly cheap. It shouldn't cost more than $10-15 US for a round trip from Hoi An.
Ride there with your motorbike
For the more adventurous types, rent your own motorbike and riding yourself there is definitely the way to go. It allows you full control over what you see and when you see it. Additionally, given motorbike rental is only about $5 per day and a tank of petrol about $2, this is also the cheapest method of transport.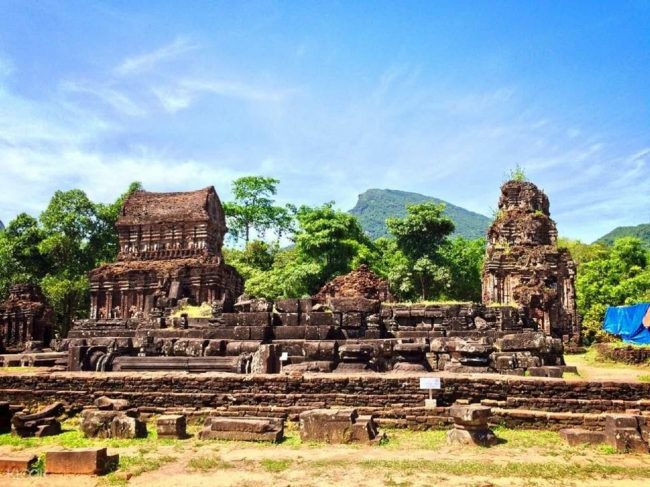 Rent a car
For those who want to see it with a bit more comfort, a car rental is an excellent option. Compared to western countries, renting a car is very cheap, with the car and a driver costing about $40 per day.
One method that is not recommended is the tour groups from Hoi An. Whilst they are extremely cheap, you definitely do not get value for money. These tours stop at restaurants and a number of dodgy businesses that are allied with the tour operator. Additionally, given the amount of time the tour spends at these businesses and picking up other passengers, for a 6 hour trip, you'll only spend about 1 hour at the ruins themselves. Steer clear!
What to see in My Son
Champa Museum
Located near the ticket office, the museum explains many of the site's artefacts and also the history of the site. For some bizarre reason, the curators have removed a lot of the artefacts from the temples in order to display them here. As a result, it is a necessary place to visit, and should be completed on arrival, because the museum closes 30 mins before the rest of the ruins.
The temples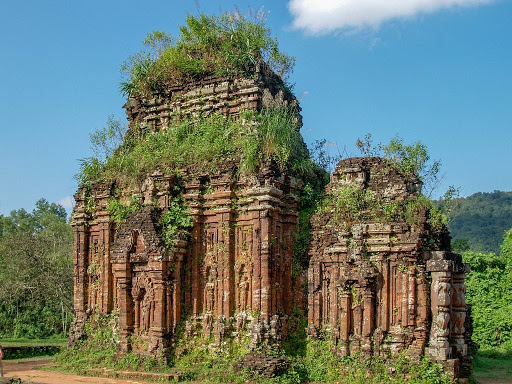 The ruins are located in 9 'groups', labelled A-L. Groups A through F are easily found by using the walking tracks, but G, H and L can be more difficult to find.
Traditional dancing display
There is a traditional dancing display every morning (except Monday) at 9:45am. These are held for the tour groups but are free of charge so anybody may enjoy them. The stage is opposite the souvenir shop, which is just before the first group of ruins.
Unfortunately, due to American carpet bombing during the Vietnam War, My Son is not as well preserved or as impressive as its counterparts Angkor Wat in Cambodia or Borobudur in Indonesia. However, they are still very impressive and additionally the jungle setting is stunningly beautiful and is almost worth the journey from Hoi An on its own!